At the beginning of 2020, we opened a brand-new facility in Amsterdam as part of our continued growth and expansion across Europe.
This new office means we now have five facilities in Europe — two in the UK, two in Romania and one in the Netherlands — as well as our supply chain office in Hong Kong. From these facilities, we provide key manufacturing and supply services to OEMs and product innovators around the globe, including PCB assembly, cable assembly, overmoulding, electronics box build and product realisation.
So, of all the places in the world, why did we pick the Netherlands?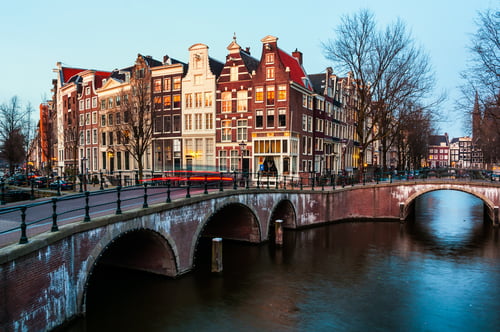 For one, the Netherlands has a fantastic reputation for international business, as well as a strong legal and financial infrastructure. Secondly, it is firmly established as an excellence in supply chain management and is world-renowned for being a global logistics hub.
We are incredibly excited to be increasing our European presence through our new facility in Amsterdam. Let's take a closer look at what this recent expansion means for EC Electronics as a company, as well as our customers old and new.
Increasing capabilities and capacity
The move to Amsterdam was overseen by our core UK staff members to ensure our existing ethos and values would be transferred to and reflected in the new branch of the business.
From a company perspective, the expansion will bring a number of key benefits to EC Electronics over the next few years.
By reaching deeper into the European supply chain, we will be well-placed to simplify our own supply chain processes and logistics routing — as well as to expand the European operations and sales side of the business. In turn, this will allow us to increase our capabilities and capacity and mean we are better equipped to deal with large volume projects at short notice.
Plus, the new facilities mean we will able to reduce our vehicle movements further — improving sustainability and helping to reduce CO2 emissions throughout our operations.
New opportunities for our customers
As well as increasing our capabilities and capacity, our expansion into the Netherlands has also opened up a lot of opportunities for both current and new customers. Our new location means we are in a better position to support our European customers and offer our existing Romanian manufacturing solutions to them.
Since we have one foot in the UK and another in Europe, we are also able to deliver an extensive range of electronics manufacturing options. We can remain competitive while effectively mitigating any risks associated with Brexit and provide our customers with the best price and quality to suit their specific product requirements.
Thanks to our growing European presence and enhanced supply chain, customers will also benefit from improved lead times. We can source, produce, assemble, test and ship all the necessary components on the day you need it, in the quantities you require.
Europe and beyond
Although our head office is based in the UK, we're a global manufacturer. Over the last three decades, we have built up a strong presence in the UK as well as Europe through our electronics expertise and ability to deliver quality products on demand.
All of our operations are handled by a specialist team of highly skilled engineers with vast experience across a variety of applications and industries.
Our latest office opening in the Netherlands is just the start of our continued expansion in 2020. We are currently also working to source additional distribution centres across Europe, which will help to improve our lead times further and allow us to deliver the best possible service to our customers — all while taking a sustainable approach to our operations.
Over the next year, we look forward to growing EC Electronics and widening our customer base in Europe and beyond.
Are you looking for an electronics manufacturing services provider with global capabilities? Contact one of the friendly team at EC Electronics today!